Seminars
Seminars on television lighting, news set and sporting events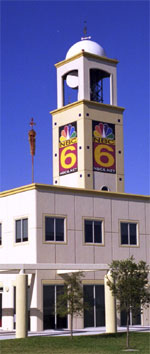 Frank Gatto is available to give seminars on television lighting, news set and sporting events (bowling, hockey, etc..). One of our seminars was in Mexico City, where we discussed lighting for television. This seminar was attended by 60 lighting and video engineers primarily from Mexico and South America. The seminar was conducted in English and translated by headset in Spanish.

Frank Gatto, Emmy-Award winning Director of Lighting conducted a two-hour seminar at WTVJ/NBC6 on Saturday, March 9 for a sold-out audience of mostly professional camera operators and lighting technicians. At the start Frank said, "I'm not going to teach everything in two hours, but you should learn what is possible in lighting." He said that today much work is produced at 40 foot candles of light. Not too many years ago, the norm was 500 foot candles. He explained that one foot candle = the amount of light given by one candle one foot away. Less light is needed today due to the sensitivity of modern cameras. This sensitivity can lead to problems. Frank showed a set-up that he had lighted for ESPN at a hockey game. The ice rink in the background was white. The commentators desk in the foreground needed to be lighted with the same foot candles as the rink in the background, which he did. A relatively small number of foot candles did the job. When the game was just about to start, the rink turned on some overhead lights. These lights created hot spots on the foreheads of the commentators that needed quick re-balancing of the lights on the foreground.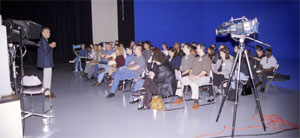 Frank showed a number of lighting examples on video tape as well as demonstrating lighting technique in the WTVJ studio. Frank finished the seminar and flew to join ESPN for a lighting job on Sports Center.
Contact Us Now!
TELEVISION AND SPECIAL EVENT LIGHTING FOR OVER 30 YEARS!
Frank Gatto & Associates, Inc.